The Corporate Sustainability Reporting Directive (CSRD), which entered into force on January 5, 2023, establishes a uniform framework for the reporting of non-financial data for companies operating in the European Union. While the CSRD provides the requirements, the European Sustainability Reporting Standards (ESRS) define the contents of the new disclosure obligations. The ESRS will gradually come into force from 2024 — and with them the principle of double materiality. What does this new principle imply and how does it differ from the previous principle of materiality?

What is the double materiality principle?


Double materiality is a concept which provides criteria for the determination of whether a sustainability matter must be included in a company's sustainability report. The principle of double materiality drives companies to approach sustainability from two different perspectives:
1. Outside-in perspective ("Financial Materiality")
The Financial Materiality implies an outside-in perspective. Companies must consider all external sustainability impacts that could internally affect their future profitability. This is because external sustainability factors such as ecological diversity and global warming will have a long-term impact on cash flow and, therefore, on any company's ability to operate.
2. Inside-out perspective ("Impact Materiality")
The Impact Materiality, also known as Environmental & Social Materiality, implies an inside-out perspective. From this point of view, businesses need to consider the external impacts their operations have, including impacts on society and the environment. These include, for example, their contributions to air and water pollution or their emissions of greenhouse gases (GHGs) that add to global climate risks.
A sustainability matter meets the criteria of double materiality if it is material from either one or both perspectives.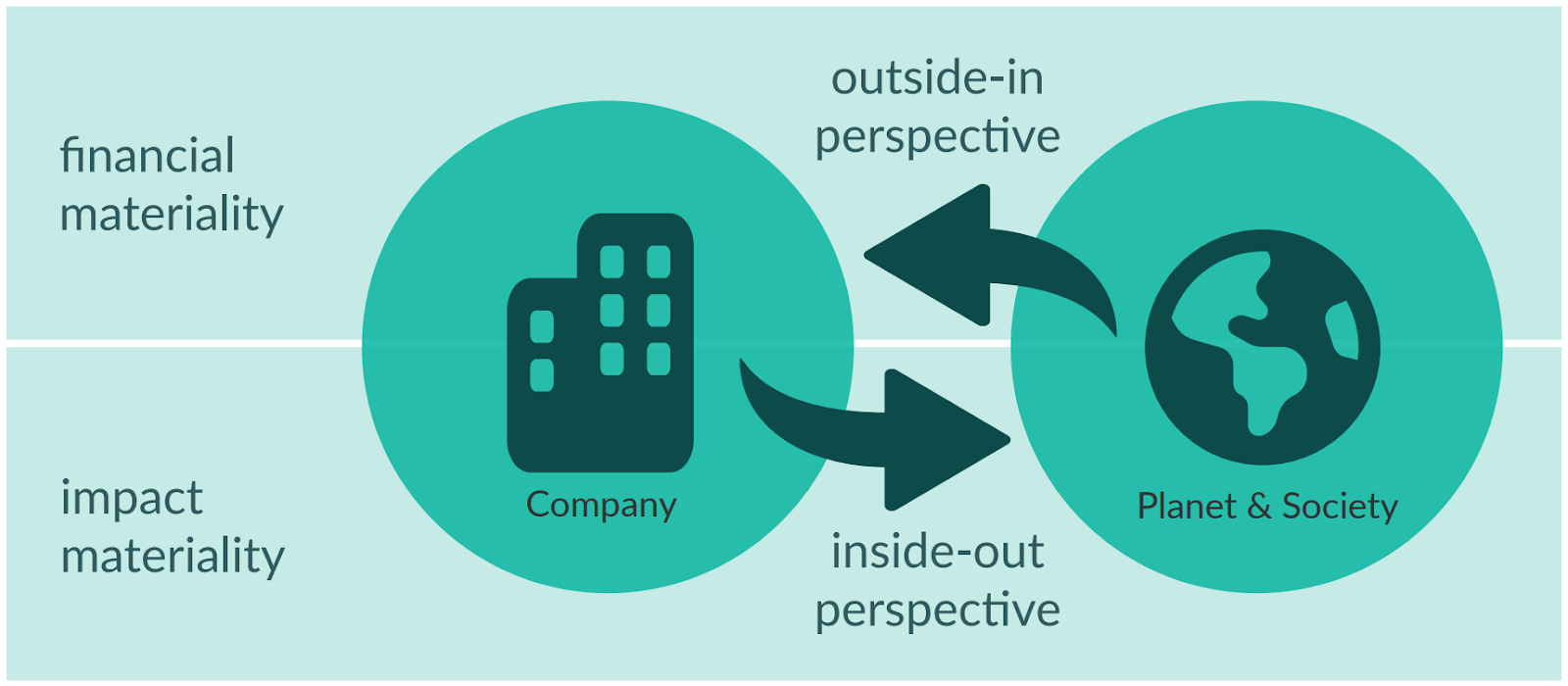 Why double materiality is important


The principle of double materiality prevents one-sided reporting. This would be when aspects that have a negative environmental impact but no negative financial impact on the reporting company are not mandatory to report. Previously, in the materiality principle of the Non-Financial Reporting Directive (NFRD), this had been the case.
Materiality only refers to the consequences of sustainability issues on finance and corporate activity (outside-in), which puts an emphasis on investor and stakeholder interests. However, double materiality, in addition to that, includes the impact of finance and corporate activity on sustainability factors (inside-out), which gives more importance to stakeholder interests. Therefore, double materiality expands the scope of what is considered a significant sustainability factor.
Example of double materiality from the construction and real estate industry

Let's consider a construction and real estate company. On the one hand, external sustainability factors such as extreme weather events and severe heat waves restrict the company in its business activities (outside-in). The reason could be a lack of necessary natural resources or construction delays. On the other hand, the company itself influences its external environment, e.g. through carbon emissions in production or contamination of groundwater, which foster climate change and pollution (inside-out).