The consequences of the COVID-19 pandemic, the energy crisis, rising inflation, and staff shortages are putting hospitals under enormous pressure. And it doesn't stop there – the next substantial challenge is already just around the corner: the climate crisis.

For hospitals and clinics, this is a particular challenge in two ways:

Climate change
Hospitals and clinics have to cope with increased health problems caused by global warming, extreme weather events, and air pollution. The consequences include, among others, cardiovascular diseases, infectious diseases, premature deaths, and poor nutrition.



ESG regulations
The healthcare sector itself must meet its ecological responsibilities. This includes reducing energy-related CO2 emissions, saving resources, and avoiding waste. At the same time, hospitals are increasingly affected by legal ESG reporting regulations that require them to disclose sustainability data.
So, what can hospitals do to position themselves sustainably in the area of conflict between medicine, patient welfare, economy, and ecology – and at the same time meet their ESG reporting obligations?



Healthcare and its contribution to climate change

With its multiple greenhouse gas emission sources (see graphic below), the healthcare sector is a major contributor to global climate change. At 4.4%, it accounts for a significant proportion of global annual greenhouse gas emissions, according to Gesundheitsindustrie BW. The share in Germany is even around 5%. This corresponds to two gigatons of CO2 and is equivalent to the annual emissions of 514 coal-fired power plants. These numbers put the healthcare sector even ahead of aviation in terms of greenhouse gas emissions.
Greenhouse gas emission sources of an average German hospital; own illustration based on pwC
In particular, ongoing hospital operations require a great amount of energy for lighting, IT, heating, cooling, or ventilation systems and the operation of equipment-intensive areas (operating rooms and intensive care units). According to the Viamedica Foundation, one hospital bed consumes around 6,000 kWh of electricity and 29,000 kWh of heat annually – equivalent to the demand for two modern single-family homes.
Plus, hospitals are not only high-energy businesses, but they also consume many raw materials and generate hazardous waste: With around eight tons of waste per day, hospitals are the fifth-largest waste producer in Germany, which can result in pollution and groundwater contamination.


ESG in hospitals and clinics


The concept of corporate sustainability is based on three pillars: the so-called Environmental, Social, and Governance (ESG) criteria. They imply an organization's impact on the environment, society, and stakeholder relations, as well as an organization's manner of governance. Some ESG factors relevant to the healthcare sector can be found in the graphic below.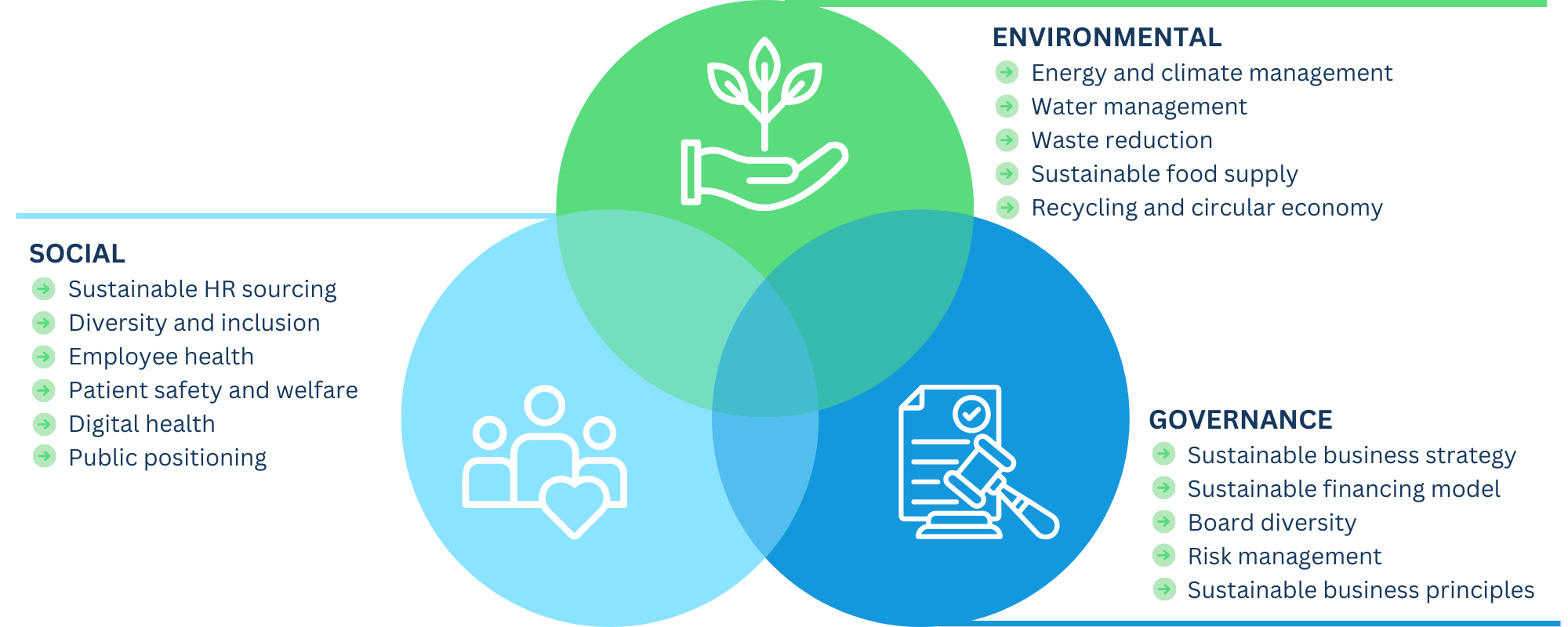 To survive in the area of conflict between profitability and sustainable management, ESG needs to be an integral part of every hospital's corporate governance. Focusing on ESG within a hospital's strategy and principles will help to transform the business towards sustainability and long-term success. Recognizing and implementing this procedure is the responsibility of the respective management board.



Relevant ESG reporting regulations for healthcare

Besides the increasing awareness of sustainability, politics is also actively driving the issue forward. Because there is no doubt: companies and private sector organizations have an important responsibility in the fight against climate change. This is precisely why the EU adopted the European Green Deal in 2019: it set the goal of achieving a carbon-neutral economy in the EU by 2050. To achieve this goal, the amount of European and national ESG regulations is increasing, obliging organizations to disclose their ESG data and become more sustainable. And healthcare is not exempt.
In the following, we introduce three of the most relevant ESG regulations of the EU for hospitals.


Corporate Sustainability Reporting Directive (CSRD)

The Corporate Sustainability Reporting Directive (CSRD) establishes a uniform framework for the mandatory reporting of non-financial data for companies operating in the European Union. The CSRD will significantly expand the scope of companies subject to mandatory reporting.
The CSRD replaces the Non-Financial Reporting Directive (NFRD) to encourage more accurate disclosure of sustainability targets and metrics. One of the key provisions of the CSRD is compliance with the European Sustainability Reporting Standards (ESRS).

CSRD

Target Group

Hospital associations are subject to the CSRD if they meet two of the following three criteria:
→ more than 250 employees and/or
→ net sales of more than 40M EUR and/or
→ balance sheet total of more than 20M EUR

Timeline

Reports for hospital associations that fall under the above scope are due for the first time in 2026, covering the financial year 2025.
Read more about the CSRD in our insight article: All you need to know about the Corporate Sustainability Reporting Directive (CSRD)


German Supply Chain Due Diligence Act (LkSG)

The German Supply Chain Due Diligence Act (German: Lieferkettensorgfaltspflichtengesetz) obliges companies in Germany to provide holistic transparency along their supply chain and is thus intended to ensure compliance with human rights and environmental obligations. This applies both to the company's own business operations and to the actions of contractual partners and other suppliers along the entire supply chain.
The due diligence obligations mandate the implementation of adequate risk management procedures in order to identify, avoid, or mitigate the risks of human rights abuses and environmental damage.

LkSG

Target Group

Hospital associations are subject to the LkSG if they meet the following two criteria:
→ Principal place of business in Germany
→ more than 1,000 or 3,000 employees (see below)

Timeline

→ more than 3,000 employees: reports are due for the first time in 2024, covering the financial year 2023.

→ more than 1,000 employees: reports are due for the first time in 2025, covering the financial year 2024.
Read more about the LkSG in our insight article: The German Supply Chain Act (LkSG) defines corporate due diligence obligations



EU Taxonomy


As part of the European Green Deal, the EU Taxonomy Regulation sets a framework for the concept of sustainability, defining exactly if an economic activity can be considered environmentally sustainable. Previously, there was no clear guidance or definition of green, sustainable, or environmentally friendly economic activities, and companies could get away with all sorts of greenwashing.
Therefore, an economic activity has to be assigned to a defined taxonomy activity by the EU, contribute substantially to one of six defined environmental objectives, does not significantly harm any of the remaining environmental objectives, and comply with a series of minimum social safeguards.

EU Taxonomy

Target Group

Hospital associations are subject to the EU Taxonomy if they meet two of the following three criteria:
→ more than 250 employees and/or
→ net sales of more than 40M EUR and/or
→ balance sheet total of more than 20M EUR

Timeline

Reports for hospital associations that fall under the above scope are due for the first time in 2026, covering the financial year 2025.
Read more about the EU Taxonomy in our insight article: What is the EU Taxonomy and which companies are required to report?



5 reasons why hospitals should start sustainability reporting now


One thing is certain: the healthcare sector must become more sustainable due to its high environmental impact, and ESG regulations legally oblige hospitals to comply with sustainability standards.
But the green transformation can certainly also be in the interest of hospitals themselves. Here are 5 reasons – besides ecological responsibility and regulatory pressure – why healthcare should start sustainability reporting right now.




1. Evaluating sustainability performance


ESG reporting can be a critical tool for hospital associations to measure, evaluate, and compare their own sustainability performance. With comprehensive sustainability reports, healthcare organizations can gauge their progress in areas like energy efficiency, waste management, and community engagement, amongst others. This allows for the identification of both successes and areas for improvement. By having an accurate measure of their performance, hospitals can benchmark their results against other similar institutions and establish meaningful and realistic targets for further improvement.


2. Identifying potential savings


By analyzing ESG risks and opportunities, hospitals can identify saving potentials – and create a new scope for investments. This relates, for example, to waste avoidance. In areas such as wound care, sterile disposable products are essential, but there are already various alternatives when performing operations. At first glance, disposable products appear to be more economical, as the processes required for reprocessing are time and personnel intensive. On closer analysis, however, this is often refuted. Moreover, the use of reusable stainless steel instruments also saves precious resources such as chromium. According to the Viamedica Foundation, also with careful identification of energy-saving potential alone, German hospitals could save up to 40% of their energy consumption, resulting in a total annual sum of approx. 600 million euros.


3. Attracting professionals


By demonstrating their commitment to environmentally and socially responsible practices, healthcare organizations can cultivate a positive reputation and project an image of corporate responsibility. This plays a significant role in attracting and retaining high-quality staff. A "green" image is particularly appealing to the younger generation of job-seekers, who often prioritize working for companies that align with their personal values and are making tangible efforts toward sustainability. In an industry where the competition for top talent is fierce, the ability to portray an organization as an ethical, environmentally-friendly employer can be a powerful recruitment tool. Furthermore, employees who feel their values are reflected in their workplace may be more motivated and satisfied, potentially improving performance and reducing turnover.


4. Improving patient-centered care and safety


Although, at first glance, it may seem more about compliance, ESG reporting can actually help increase patient-centered care and safety. In other words, what should actually be the focus of any hospital and clinic? And especially in healthcare, where corporate sustainability is still in its infancy, organizations can position themselves relatively quickly as leaders in healthcare sustainability. This not only improves reputation and competitiveness but also builds trust and goodwill in the community in which they serve. But how is that possible? ESG reporting encourages hospitals to focus on patient-centered care and safety. By tracking and disclosing metrics related to patient outcomes, infection rates, and quality of care, hospitals can continuously improve their services and communicate their commitment to patient well-being.



5. Attracting investments and loans


Sustainability reporting in the healthcare sector demonstrates an organization's commitment to socially and environmentally responsible practices, which can greatly enhance its success in investment and lending. Lenders and investors are increasingly taking ESG factors into account when evaluating credit risk and terms, as such considerations can have a significant impact on an organization's long-term profitability and financial health. By providing clear, understandable, and quantifiable sustainability reporting, healthcare providers are therefore offering lenders and investors a clearer, more comprehensive picture of their overall risk profile. This, in turn, could lead to more favorable lending terms or potentially easier access to capital.


How software helps your healthcare organization become a pioneer in ESG reporting


Whether mandatory or voluntary, taking ESG principles into account is not just a trend but a strategic imperative. Software solutions aid hospital and clinic associations to lead as ESG pioneers by ensuring compliance with evolving regulations, enabling data-driven decision-making, optimizing resource management, and enhancing overall sustainability.
Software can seamlessly aggregate and integrate data from diverse sources, ensuring accurate and real-time data availability. Especially if automated, data collection through ESG software reduces manual efforts and minimizes human errors, ensuring the reliability of reported information. Additionally, real-time monitoring empowers hospitals to assess their sustainability performance continuously, enabling swift responses to any deviations from targets or benchmarks.
By presenting data in intuitive visual formats, such as charts and graphs, software facilitates better understanding and decision-making for hospital stakeholders. Customizable reporting templates offered by ESG software aligning with industry standards and compliance requirements, enable hospitals to tailor their reports to specific needs. This adaptability ensures that ESG reports are comprehensive, transparent, and meet regulatory expectations.


→ This is exactly what you are looking for?
Envoria can play a pivotal role in helping your hospital association become an ESG pioneer – by facilitating efficient data management, analysis, and reporting. With its all-in-one software for sustainability reporting, you can proactively address sustainability challenges, identify saving and investment opportunities, build stakeholder trust, and secure your long-term success as a responsible healthcare organization. All while complying with mandatory ESG regulations, such as CSRD, EU Taxonomy, or LkSG.