Mitigating negative environmental impact has become a business imperative for companies. Among the top priorities is reducing the carbon footprint, which starts with monitoring company-related greenhouse gas (GHG) emissions.

What is the GHG Protocol?

Established in 1998, the Greenhouse Gas Protocol (GHGP) provides a globally standardized framework to measure and manage GHG emissions from private and public sector operations, value chains and emission reduction actions. It was formed through a partnership between the World Resources Institute and the World Business Council for Sustainable Development due to the need for a consistent framework for greenhouse gas reporting.
The Corporate Accounting and Reporting Standard provides guidance for companies on how to quantify and report their GHG emissions. Through standardized approaches to emissions evaluation, the GHG Protocol enables companies to reduce the costs of creating a GHG inventory and increase transparency and consistency in the reporting process.


What are scope emissions?

According to the GHG Protocol, a company's greenhouse gas emissions are divided into three scopes.
Scope 1
Scope 1 emissions are direct GHG emissions that a company produces and controls

This scope is separated into 4 categories

Emitted through stationary combustion, process emissions, fugitive emissions, and mobile emissions

Examples: gas-powered office heating, on-site manufacturing, air conditioning units, or company vehicles

Scope 2
Scope 2 emissions are indirect GHG emissions that a company produces by its use of electricity and power

Emitted through power plants that supply the company with its electricity, steam, heat, and cooling demand

Example: Purchased electricity

Scope 3
Scope 3 emissions are indirect GHG emissions that occur up and down the company's value chain and are not included in scope 2

This scope is separated into 15 categories

Emitted through a company's value chain: suppliers, employees, business travel, use of company products etc.

Examples:

Upstream: Purchased goods and services or employee commuting

Downstream: Investments or franchises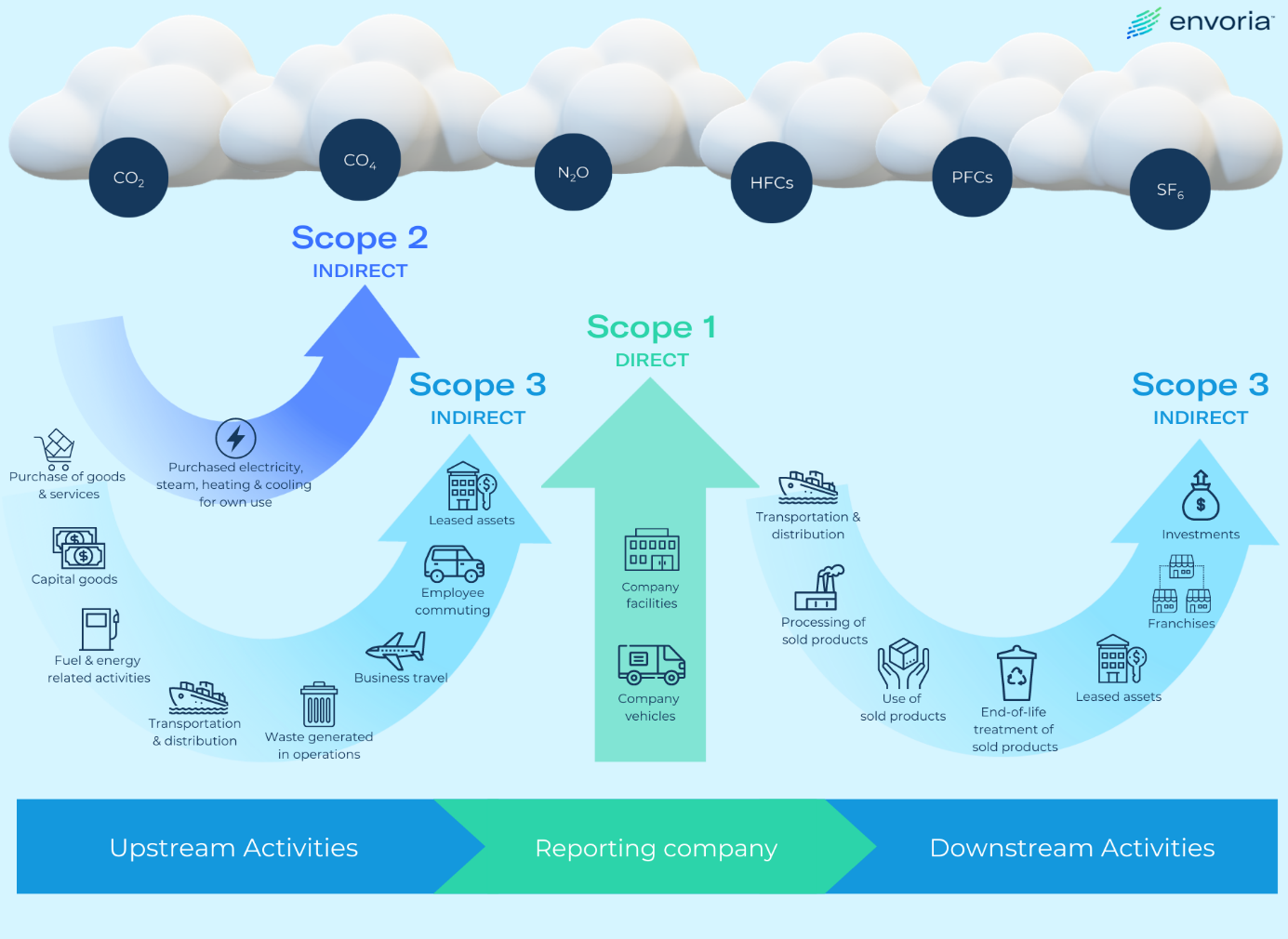 The challenge of scope 3 emissions

According to CDP, the majority of corporate emissions comes from Scope 3 sources. Scope 3 emissions can even reach up to 100% for certain industries, e.g., financial services, capital good and transport OEMs. For industries utilizing raw materials such as real estate, construction, metals and mining, or agriculture commodities, Scope 3 encompasses 90-95% of a company's value chain.
Mapping Scope 3 emissions allows companies to understand their emission hotspots and identify rising risks within their value chain. This allows for timely response to any price spikes, resource availability or regulatory updates. At the same time, monitoring Scope 3 emissions allows not only to identify risks but also business opportunities such as new supplier collaborations.
However, a reduction of Scope 3 emissions is limited. They are the most difficult to measure due to a lack of data, resources, and standardized methodology. To determine an organization's exact greenhouse gas footprint, a lifecycle assessment would need to be completed for every good or service provided – an expensive and time-consuming process. Therefore, the Greenhouse Gas Protocol allows companies that have difficulties obtaining direct information from their suppliers to use proxies, industry averages, and other sources to calculate Scope 3 emissions. Help can be expected from third-party data providers, as well as the International Energy Agency and various government agencies.
Do companies have to report on Scope 1, 2 and 3?

Scope 1 and 2 are mandatory to report, while scope 3 is – still – mostly voluntary. Soon, however, companies will likely no longer have a choice. The US Electronic Subcontracting Reporting System (eSRS) and the US Securities and Exchange Commission have drafted recommendations requiring some disclosure of Scope 3 emissions – the International Sustainability Standards Board (ISSB) has already voted in October 2022 to make Scope 3 emissions reporting mandatory. The rules are likely to be finalized by early 2023.
Future-oriented organizations will begin developing the skills and expertise they need to measure, manage, and report not only their Scope 1 and 2 but also their Scope 3 emissions. By taking a step-by-step approach to data collection, companies can achieve the foundation for comprehensive reporting today – before it's too late at some point.
Collecting, monitoring, and reporting carbon emissions can be time-consuming and challenging. Envoria's software can help you track your GHG emissions. Request a free demo to learn how your organization can become compliant with the GHG Protocol.